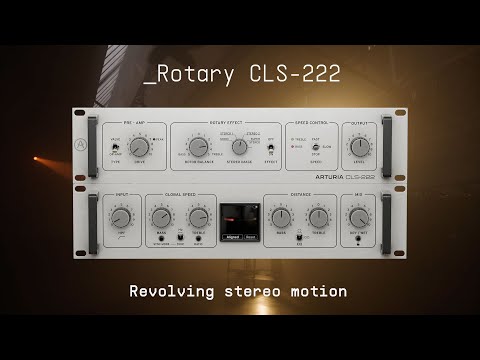 _Introducing Rotary CLS-222
Revolving stereo motion
June 1st, 5 PM CET
Rotary CLS-222 reimagines the classic Dynacord® rotary speaker emulator as a creative plugin that goes from silky smooth stereo swirls to spinning synchronized patterns - enhancing your sound with extra width, momentum, and analog character in seconds.
Bring your sound full circle with the instantly recognizable sound of the rotary effect; discover the iconic spinning character heard on countless records, or explore the wilder side of stereo movement with bonus creative features.

Discover Rotary CLS-222 here
_What's New?
Valve Pre-Amp for added warmth and richness, adding to the Leslie tone.

Expanded Stereo width.

Adjustable bass and treble rotor speeds with extended ranges, along with sync mode.

Visualizer provides real-time feedback on the sound movement.

Distance controls for emphasizing the rotor shape.

Includes two new distance shapes to unlock expanded creative possibilities.
_9 Cool Things to do
Main View:
Presets: Explore a delightful collection of presets to discover the perfect Leslie sound and beyond.

Rotor Effect: Fine-tune the balance and stereo image, placing your sound precisely in the mix.

Speed Control: Experience the magic of classic Leslie rotary sounds by seamlessly adjusting from slow to fast speeds.

Pre-Amp: Choose between the original OP-Amp for clean gain, or opt for the Valve to infuse your sound with warm richness, harmonics, and that sought-after analog grit. ## Advanced View:

Global Speed:

Sync vs. Hz - Discover the versatility of the rotary effect by adjusting its speed. Synchronize it with your DAW's tempo for precise rhythmic integration or experiment with the classic freerunning Hz setting.

Ring Modulation: Push the boundaries with extended rotor ranges, delving into the realm of audio modulation. Try combining higher Hz values with speed set to fast for some wild tones.

Ratio: Streamline your workflow by enabling quick and intuitive control over the relationship between the two rotors.

Nice and Slow: Achieve a delightful vintage phasing effect on drums by setting the rotors to slow speeds with dry/wet set to full.

Visualizer: Dive into an engaging visual representation of your sound, adding depth to the overall experience. Additionally, customize the interaction between the two rotors, deciding whether they chase, oppose, or harmonize with each other.

Distance: Take control over the circular motion of the rotary effect, amplifying its impact and even altering its direction. We've added 2 new shapes that push the edges of what a Leslie can do, unlocking fresh sonic possibilities.

Get started with Rotary CLS-222 here
_Rotary CLS-222 in action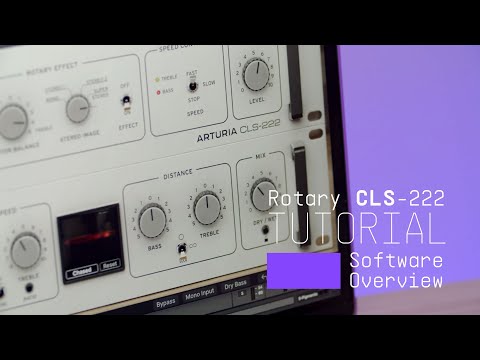 Lena gives you a guided tour around Rotary CLS-222, demonstrating its vibrant stereo sound, authentic controls, and bonus creative features for modern production.
_Included in FX Collection 4
This effect is part of FX Collection, a suite of essential audio effect plugins empowering musicians, producers, and artists to get creative with their production. From iconic recording gear modeled with breathtaking accuracy, to cutting-edge contemporary effects, the collection includes the most sought-after studio tools, rare guitar pedals, modern mix enhancers, and beyond.

Explore FX Collection 4 here
_Useful Links and Resources

For more information, check out our Rotary CLS-222 FAQ.

Join the discussion in our dedicated Rotary CLS-222 forum section to connect with other users and share your thoughts!