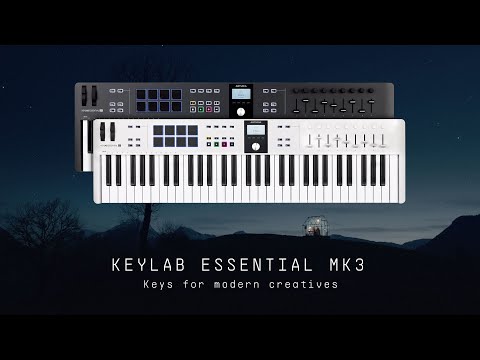 _Introducing KeyLab Essential mk3
Your keys to creativity
May 23rd, 5 PM CET
Break down all the barriers between you, your DAW, and your perfect sound. Introducing KeyLab Essential mk3, an evolved keyboard controller that elevates DAW integration, software instrument control, and workflow-focused design to the next level - your keys to creativity.
However you choose to make music, KeyLab Essential has all the creative answers - before you've even thought of the questions. This controller fits right into your setup to become an extension of your creative identity.

Explore the KeyLab Essential mk3
_What's new?
The most focused workflow
A bigger display with contextual buttons, plus a thoughtful selection of controls, means a controller as powerful as it is simple.
Unmatched DAW integration
Between its custom scripts for 5 major DAWs and its industry-standard compatibility, KeyLab Essential mk3 controls any project with ease.
New creative features
A bigger display with contextual buttons, plus a thoughtful selection of controls, means a controller as powerful as it is simple.
At one with Analog Lab
Turn Analog Lab into a hands-on experience with seamlessly mapped controls, immediate preset browsing, and more.
Eco-designed
With minimum 40% recycled plastic and a carbon footprint reduction of 18%, this controller is built with sustainability in mind.
_Extended Software Bundle
What software & sounds do you get with KeyLab Essential mk3? From a full copy of Analog Lab to a library of over 4 million samples, you're fully equipped for whatever music you want to make.
ANALOG LAB V included - Your creative hub
A library of the finest basses, fattest synths, smoothest orchestral sounds, and more, from vintage to modern, powered by V Collection, Augmented Series, and Pigments.
Ableton Live Lite - Music recording software
Record, perform, and produce anything with an introduction to one of the hottest DAWs in the business, including instrument presets, drums, FX, MIDI clips, and more.
Model D - A timeless grand piano
The epic stage-sized character of a Steinway grand piano, arguably the most iconic piano of all time, sampled in detail to bring your production to life.
The Gentleman - Intimate upright piano
Enjoy the cheery, vintage sound of a Century-old upright piano, recorded to deliver charm and intimate character to your mix.
Loopcloud - Millions of samples & loops
A 2-month subscription to Loopcloud with millions of hi-def royalty-free samples, from lo-fi drums to vocal one-shots, with 2GB of samples including a welcome pack and a specially-crafted Arturia selection.
Melodics - Learn with KeyLab Essential mk3
Improve your pad & keyboard skills with a subscription to Melodics, offering 40 lessons, tips, and musical hacks that are fun, easy, and tailored to your style.
_Essential, intuitive flexible controls
Sometimes you just want to get the job done. KeyLab Essential's focused controls give you quick access to the most useful & intuitive elements of your project & sound without complicating things.
As comfortable for performance as it is for studio beat-making, KeyLab Essential's durable hybrid synth-piano keybed is smooth & responsive, complemented by the familiar Pitch & Mod wheels and Pedal input for sustain, footswitch, or expression.
Get the essential real-time info you need, from parameter values to your current preset, with a bright 2.5" display, complete with contextual buttons that make navigation effortless.
Switch between MIDI notes, clip triggering, finger-drumming, or whatever you need them to do. KeyLab Essential's velocity & pressure-sensitive pads are even RGB color-coded so you can keep track at all times.
Get that real hands-on feeling and interact with crucial controls right where you need them, from track panning to specific instrument parameters, with full rotation encoders.
Tweak your track levels, envelope settings, selected parameters on your Arturia instruments, and more with ultra-smooth faders at your fingertips.
Instantly switch from sculpting your synth sounds to piloting your DAW project with KeyLab Essential's dedicated DAW controls, so you're in control at all times. Its custom integration scripts even ensure that the most crucial controls work perfectly, whatever DAW you're using.
Play rich, full, powerful chords with a single key by selecting from built-in chord presets, or inputting your own custom chord shapes - great for when you need quick inspiration for your next hit.
Set your playing free and never go out of key with KeyLab Essential's Scale mode, which quickly locks the keybed to one of several built-in scales. Wrong notes? Never again.
Turn chords or selections of notes into vibrant melodies and rhythmic ideas with a built-in Arpeggiator, complete with Hold function so you can go no-hands. You can even use all these features together; play & hold a chord with a single key, arpeggiate it, and lock it to a scale of your choice.
_KeyLab Essential mk3 in action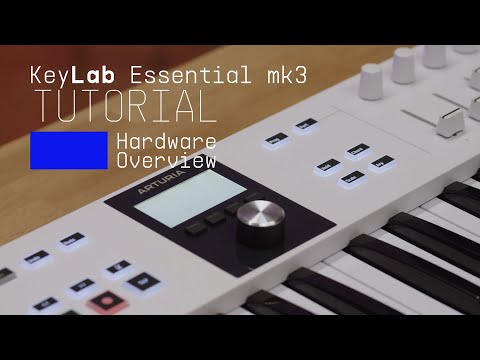 Check out Matt Paull's tutorial on the features, upgrades, and hidden tricks of our third-generation essential controller.

Discover the new KeyLab Essential Mk3 here
_Useful Links and Resources

For more information, check out our KeyLab Essential mk3 FAQ.

Join the discussion in our dedicated KeyLab Essential forum section to connect with other users and share your thoughts!