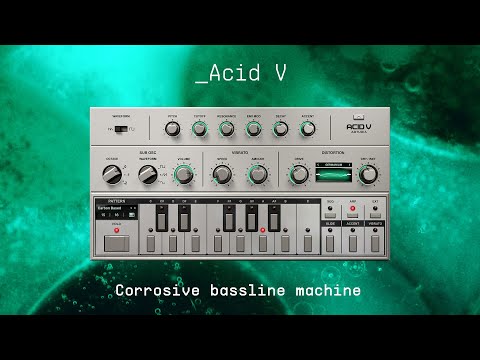 _Introducing Acid V
Corrosive Bassline Machine
August 22nd, 5PM CET
Acid V is a software instrument inspired by the cult-classic bass synth that pushed the underground into overdrive.
Reactive ever-evolving bass grooves, mutated sequences fizzing with distortion, and revitalized rave experimentations await.

Discover Acid V here
_Here's what's included:
Little box, big bass
A simple synth that changed bass for good, reborn in plugin form with component-level accuracy, capturing the pure sonic essence of a certified classic for today's producers.
In constant motion
Acid V is all about movement; users can instantly spawn jagged polymetric sequences, hypnotic scale-based patterns, and endless sonic mutations.
Rave revitalized
The strobe-lit dance movements of the '80s right through to modern day share the same analog DNA; now it's ready to be manipulated, reinvented, and transformed in any DAW.
A mutated classic
Steer the 303 sound into experimental territory with upgraded features & effects delivering sounds far darker, deeper, and more impactful than the original.
_Acid V: Introductory offer
To celebrate the launch, new & existing users can unlock limited-time introductory discounts on Acid V, plus a bundle with V Collection 9. Users can login at arturia.com to unlock their exclusive discounts, available until September 14th.

Discover Acid V's intro offer here
_10 Cool Things To Have Fun With
Sweet spots everywhere: Play a sequence and start tweaking the knobs to find them, easy reward guaranteed.

Spice it up: Craft your timbre using the built-in distortion, set the amount of drive and blend it using the D/W.

Transmutation: Select an acid scale, click generate and adjust the density to your convenience to create new ideas.

Sequencer or Arpeggiator: Make up your mind depending on the situation.

Arrange: Export let's you drag & drop your sequence in your DAW, turn the Seq OFF to arrange your track in the DAW.

Modulations: By creating slow evolving movements using modulations you can recreate live tweakings and variations.

Double-down: Use the sub oscillator to strengthen your low ends and add more beef to your sound.

Effects unleashed: Modernize and make your sound unique using the 17 available effects.

Character: Adjust the advanced voice parameters under the hood to customize the core sound of the machine.

Vibrato: Create slow evolving detuned melodies to FM like timbres using the vibrato.
_Useful Links and Resources

For more information, check out our Acid V FAQ article.

Join the discussion in our dedicated Acid V forum section to connect with other users and share your thoughts!