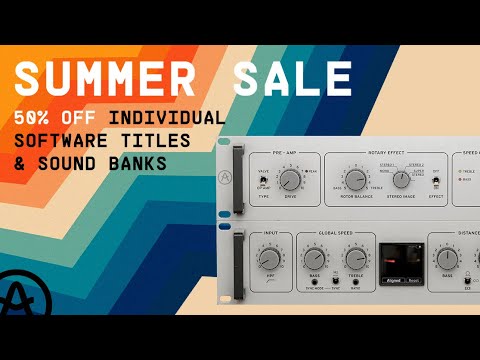 The Arturia Summer Sale is here!
July 20th, 5 PM CET
_50% off individual Arturia software, effects, and sound banks
Celebrate the Summer & treat yourself to 50% off something new - for every style, for every flow.

Discover the Summer Sale
_Here's what's included:
50% off software instruments
Full-spectrum modern production synths, irresistible vintage keyboard emulations, dynamic hybrid instruments, and everything in between.
Including: Analog Lab V, Pigments, Augmented BRASS, and more
50% off software effects
From coveted studio compressors to next-level granular processing exploration, discover effects built to change the production game.
Including: Rotary CLS-222, Rev LX-24, Filter MS-20, and more
50% off sound banks
Expertly-crafted sounds for every style, inspired by popular genres, trailblazing artists, and unique instruments - something for everyone.
Including: Futuristic Voices, Experimental Pop 1.0, Nhar On Pigments and more
_Useful Links and Resources

Got any question? Check out the Arturia Help Center.

Join the discussion in our dedicated sections for software instruments, effects, and sounds to connect with other users and share your thoughts!